FASHION PROFESSIONALS MEMBERSHIP
TERMS & CONDITIONS
TERMS AND CONDITIONS for the fashion professionals wishing to submit their membership application to become an ordinary member of the Arab Fashion Council.
INFORMATION
In order to join the Arab Fashion Council you must first make sure that you qualify the requirement for avoiding the rejection of your application. According to the AFC Act, article n.21, "no person shall become a member of the Council unless that person has completed an application for membership in a form agreed by the higher management and approved by the directors and met the requirements described below.
APPLICATION RULES
REQUIREMENTS
a. Not have been convicted of civil and / or criminal penalties; 
b. If you own a business, be in line with the payment of taxes and duties. 
c. Having a professional role and / or representative in one of the following areas of fashion or luxury events. 
Each association request will be carefully evaluated and approved by the Governing Board. " 
d. A member of the Arab Fashion Council in order to qualify should be: (1) National (2) Resident (3) Origins (4) Having Business with one of the countries members of the Arab League.
FEES
The annual fees of the Fashion professionals varies according to the type of job; below is the fees table: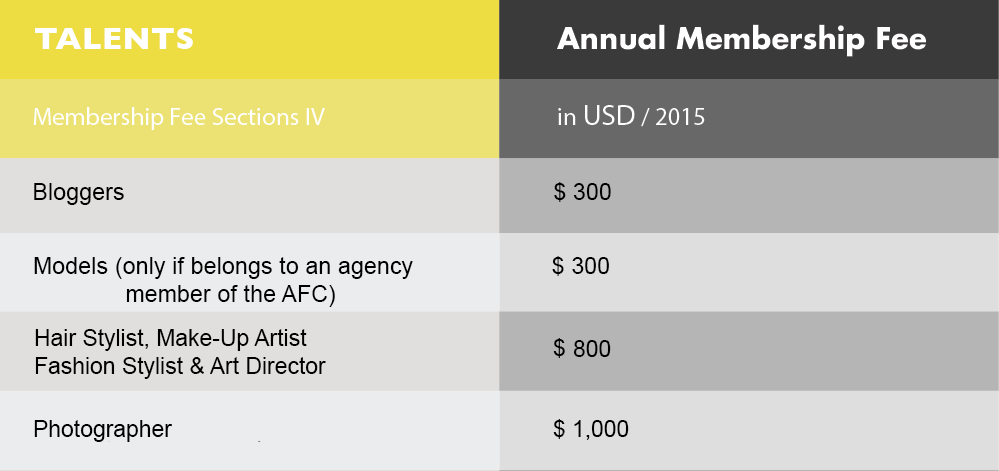 DOCUMENTS NEEDED
(a) Copy of the Passport
(b) Portfolio
(c) Motivation Letter